Change to school PE tops - A message from our new Head Girl
Change to school PE tops - A message from our new Head Girl
18 July 2019 (by Sandra Bedford (Bursarmarton))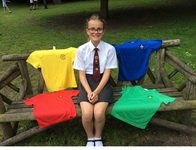 Dear Parents and Carers,
As a school councillor, I made a request to the Governing Body to consider a change in our school P.E. tops. On behalf of school council, I would like to inform you that we are changing our P.E tops. We will be changing the yellow T-shirts to the colour of your child's house team. This new change will not only save the school money, but save you money too!
In P.E. we often have to wear bibs to show which house team we are in, whereas if we had tops that already show what house we are in, it would save us having to buy new bibs. Your child will know which house they are in.
We understand that you may have already bought a new yellow P.E top and know that it would cost more money to buy another one. Therefore, we hope to see your child in the new P.E. tops in September 2020. If you would like to buy one ready for the new school year these brand new, snazzy tops are able to buy now, from D.P sportswear.
Hope this has helped you and made the P.E uniform a bit more exciting.
From Maddie Goodwin and the rest of school council.