"Though it is the smallest of all seeds, when it grows, it is the largest of garden plants and becomes a tree, so that the birds come and perch in its branches."
Matthew 13:32
"SOW NURTURE GROW"
Our school family exists to inspire and enable every child to grow from an acorn to an oak: nurtured in the soil of this place and through experiencing our Christian traditions they become strong; welcoming and sheltering others, having confidence in their own value, and becoming ready to contribute positively and faithfully in a diverse society throughout their lives.
Worship in School
We have close links with our Churches and often welcome clergy and visitors into school from our Church Parishes as well as those from the Congleton area.
Every Tuesday Reverend Arch leads our worship, parents are more than welcome to join us for this special worship time at 9.10am.
2021-2022
Collective Worship will explore the themes of our school Christian Values.
Autumn Term - Justice
Spring Term - Communion
Summer Term - Agape
Autumn term - Justice
Black History month
No Outsiders
COP26
Collective worship in the first half of the Autumn term has largely mirrored our Relationships programme in school by reinforcing our ethos that 'There are No Outsiders in our School - Everyone is Welcome, No One is the Same But Everyone is Equal.'
Ethos group launched a 'Design a Banner' competition that spreads this important message to the entire school community. The winning entry (displayed above) will be printed and displayed on the school fence at the front of our school. We have been delighted by the response to this and are very proud of ALL of the thoughtful and beautiful design entries. Congratulations to Lilly-Mae (Y4) whose design was chosen by our dedicated Ethos Group for its clear and vibrant message.
Ethos Group took the message of No Outsiders to Marton Church. We were delighted to be joined by Mr and Mrs Udi who talked to the community about their charity 'Dive In' whose mission is to promote diversity in schools by supplying diverse and inclusive books and resources to schools in the UK. You can find more information on their website www.diveineducation.org
To celebrate our termly value of Agape: Hope, we ended the Spring term with a 'Holy week experience'. It was a wonderful interactive way to experience the story and to reflect upon new beginnings, forgiveness and hope.
We worked with our Churches to bring enjoyment and reflection to a very busy Maundy Thursday.
Happy Easter!
It's Lent!
Why not challenge yourself to complete these daily challenges this Lent.
Or... You could look through which challenges that you would like to do and mark them up on your calendar to complete on the suggested day.
Download the file below to take part, take pictures and post to seesaw.
Our Spring term school value Agape, and Hope
When we see a rainbow let's be reminded that God's banner over us is love and hope - it was the perfect symbol of support for our NHS during the first lockdown. God promises hope for all of creation; Noah's story exists within the context of the big salvation story that we will encounter more closely at the end of the Spring term when we celebrate a time for new beginnings - Easter. In hearing these stories, we are assured that hope is found in God rather than in our circumstances. Our school family will, as always, support each other and everyday we that we distance from each other or spend another day away from elderly and vulnerable loved ones, we reflect God's concern for all people, especially the most vulnerable, by understanding that hope can counter fear and isolation and that we can help spread hope across our land in the small things that we do. This is something that we need reminding of now more than ever. The world has changed, but God has not; He is here and His presence with us brings hope.
So let's find hope in the 'small' things, keep marveling at the love and beauty around us that offer us hope and promise. These are a reminder that God is always near to us and new beginnings are just around the corner.
Please see below for ways to explore the value of 'Hope' at home with your family.
We made a video for the United benefice Church Service on Mothering Sunday. We would like to say
THANK YOU MUM!
Our value for the Autumn is Communion
This term, we especially reflect upon our value of Communion in school and what it means. Already, the whole school family has come back together for the wellbeing and education of our children, we have worked together to provide generosity to the wider community in donating harvest gifts to Store House Food Bank, Year 4 have begun their communion education and we continue to work together for school improvement - developing a meaningful 'Relationships education'.
We would like to invite you to explore the value of Community further in your home. Attached are 'Home-School Values' reflection activities that you may wish to use with your family this term to explore the value of Community and also have some family fun together.
We welcome your feedback so please do let us know if you use these and how you have found them.
Please see an act of worship from our friend, Rev.Calvert to continue our time of reflection.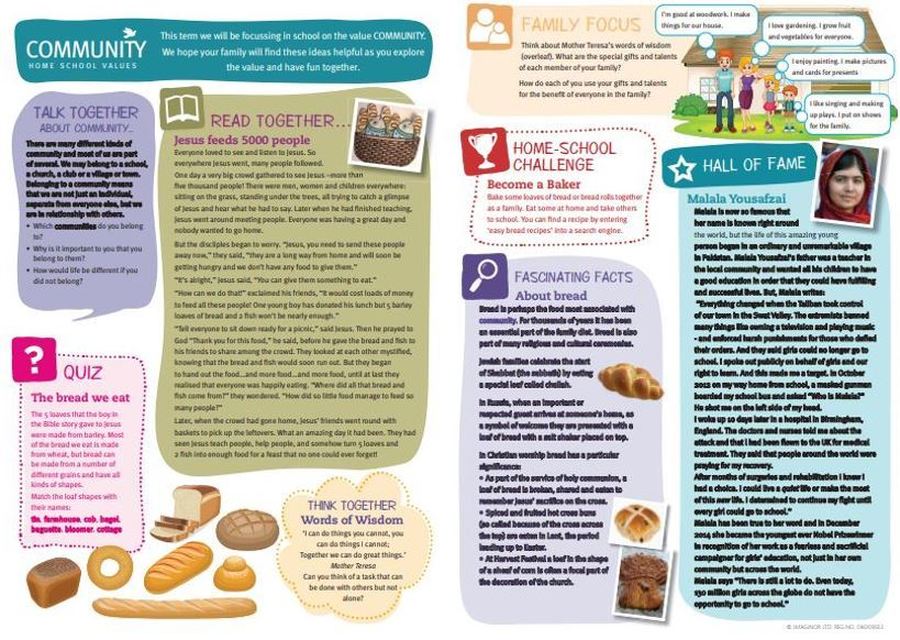 Keeping up worship and reflection whilst isolating
Why not take part in some 'Make and Pray' reflection activities brought to us from Scripture Union. They can be fun and crafty!
Below is one that's great for a sunny day outside and one that is perfect for a rainy day indoors.
You can find them (and more) by following this link https://content.scriptureunion.org.uk/lockdown
A quiet reflection and meditation
Sarah Bessey's Prayers for Anxious Times adapted into a guided meditation for families by GodVenture.co.uk

Imagine yourself in your own personal sanctuary.
It can be anywhere you choose, somewhere you feel safe and loved,
Somewhere peaceful where you can meet with God.

Breathe deeply slowly in through your nose then gently out through your mouth.

Can you imagine yourself there?
Is it an indoor or an outdoor place?
What can you see?
Can you hear anything?
What smells are there?

Continue to breathe deeply slowly in through your nose then gently out through your mouth.

Now as you breathe in say: 'Your perfect love', and as you breathe out say: 'drives out all fear'.
Breathe in yourself and say the words together.

And again.
Your perfect love ….
…. drives out all fear.
Repeat this so you say the lines ten times in total .

Last one:
Your perfect love ….
…. drives out all fear.

Now imagine yourself getting up and leaving your sanctuary and slowly coming back.

God is still with you. His peace is with you.
When there is a 5th Sunday in the month, a United benefice service is held in the school hall. Our church community is special to us and where possible, school is involved in this and contribute to the service.
2019-20 and 50 years of Marton!
In our 50th year we are rebranding our wonderful school and re-establishing our school vision for the future!
Matthew 13:31-32 31He told them another parable: "The kingdom of heaven is like a mustard seed, which a man took and planted in his field. 32Though it is the smallest of all seeds, yet when it grows, it is the largest of garden plants and becomes a tree, so that the birds come and perch in its branches."
Our Marton Ethos group met together with Parents during parents surgery to discuss a new motto for school (see photo's below) and after careful deliberation and talk amongst Governors, Staff, Parents and Pupils we are delighted to introduce our motto...
SOW NURTURE GROW
We continue to raise money for Mosquito nets!
To support our link school 'Braintrust Primary School' in Uganda, we are raising money to protect the children and their local communities from deadly diseases.
We are proud to frequently welcome Gerry who enables our link. This year we were especially proud to receive a cross gifted to our school by Brain Trust School - beautifully created in Ugandan flag colours.
July 2019 Goodbye to our y6 leavers in our finished prayer garden
As our school prayer garden is finished we bless our Y6 children. Our prayer garden, filled with growing seeds and plants, seemed a fitting place to wish them luck as they grow and move onto their next stage.
Craftivism at Marton! June 2019
What is craftivism?
It is to be an activist - courageous about a cause but to be peaceful, thoughtful and create something to raise awareness.
Our whole school underwent a project to promote various causes within their classes (recycling, caring for wildlife, reducing waste, reusing materials etc). This gave the children a chance to quietly and thoughtfully create products to sell and raise awareness. It was a tremendous success!
Ash Wednesday March 2019
Ash Wednesday was a special service where children could receive the ash cross like many Christians across the world if they wanted to. We learned about this special festival in the Christian calendar during worship.
Remembrance Day November 2018
As we prepare to remember those who died for us, we create dozens of poppies to send off to our link churches in this anniversary year. Lest we forget!
April 2018 United Benefice Church Service
Working together to create our prayer garden
We are very proud of the children who came to represent their school on a Sunday to talk about Ethos group, our Prayer garden that is under construction and to help Rev'd Arch in conducting this special service.
29.4.18 Hard at work in the prayer garden - thanks to all volunteers!
Christingle Service - 27th November 2017
Many thanks to year 4 and Reverend Arch for leading a beautiful Christingle service. We all paired up with another class to make our Chrsitingles, it was lovely to see all our children helping each other.t
Converting media.
(Media will continue converting in the background)
Harvest Festival - 18th October
It was lovely to see so many parents and carers join us at our Harvest Festival this year. We enjoyed a morning of music and poetry that celebrated God's gifts to us. We are especially grateful for the generosity of our school family as we were able to send many gifts of food to The Storehouse to help those in our community who need our support. Rev. Arch reminded us that our Harvest is a great example of how we can put our Christian Values of Communion, Agape & Justice into action.
Communion Christian Values Day - 13th October
We started our Communion Values Day with a beautiful communion service led by Rev. Arch and Year 4. During the day the children took part in many activities that allowed us to explore the meaning of thankfulness.
Christingle service
Year 4 led our beautiful Christingle service.

Values Day - Autumn 2016
We celebrated our value of communion by starting the day with a very special communion service led by Reverend Arch who was accompanied by Reverend Soult.
Some members of the school family went to the front for Eucharist or a blessing, then a representative from each class was blessed on behalf of the whole class.
This special service allowed the children to experience religion first hand.
Key Stage One continued the day by making bread and then gathering for a feast.
Values Day at Marton - May 2016
We ended the first half of the summer term with a very special day that focused on our school values - agape, communion and justice.
Our theme this year was prayer and the aim of the day was for the KS2 children to collectively create a prayer for each of our values and for KS1 and Foundation Stage to send a prayer up into the sky on a balloon.
This day was action packed and saw the year groups mixing together to experience a carousel of activities based around our values. We ended the day by gathering together in the hall and sharing our values prayers and finally we all went up onto the field to watch the prayer balloons float off into the distance!
We have a super team here at Marton and welcomed parents, grandparents, Beth and Marie Claire from New Life Church and Chris Gilbert the Art and Soul man to join us in making this day extra special for the children. Everyone pulled together once again and we are so thankful for the support of all of these people!
Here is a taster of what happened on the day...
Easter at Marton
A great big thank you to Beth Cosgrove (and squark) from NLC for coming to teach some Easter lessons in exciting and new ways.
Reverend Arch took worship and helped us reflect upon the Easter story.
In and around school... Easter nests, chicks, eggs hunts and more...
Christingle
We had a beautiful, whole school Christingle service. We all worked together and joined up with another class to make our christingles, we had a sticky but fun time making them. The year 4 class led our worship and we all were able to enjoy a quiet, candlelit time of prayer and reflection.
THANK YOU GOD FOR THE HARVEST!
Harvest Festival
Thank you to everyone who joined us for a fantastic Harvest Festival. We enjoyed some brilliant performances of songs, French, dancing and poetry.
We are proud of our strong relationship with our churches and we were delighted to present the gift of a Christmas Nativity Crib to each Church at the beginning of advent 2014 inspired by St Francis!
Christian Values Week
2015 marked the launch of our School Christian Values. Marton School worked with our local church communities to explore, learn and develop 3 distinct values that feed into the social, cultural, spiritual and moral fibre of our school and community. They are Agape, Communion and Justice.