Year 5
Year 5
13 June 2019 (by Emma Byron (EByron))
Seed Shapes!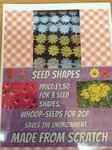 Tomorrow Year 5 will be selling their "Seed Shapes" that they have worked very hard to make.
Seed Shapes have been made with old scrap paper so nothing goes to waste! They are priced at £1.50 for 3, which come in their very own planter pot. The children have even designed their own logo and information label.
See you at the stall!