Marton Disco night - tickets coming home with children today
Marton Disco night - tickets coming home with children today
27 January 2023 (by officemarton)
Thursday 16th February Please see attached flyer and details below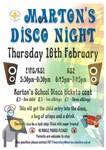 Marton Disco Night is BACK!!!
Thursday 16th February Marton Disco time.
EYFS/KS1 5:30pm-6:30pm
KS2 6:45pm-7:45pm
Tuck shop and glow sticks for sale
STUDENTS ARE NOT PERMITTED TO BRING A MOBILE PHONE.
Any questions please contact F&F and not the school office, thank you.
ffsecretary@marton.cheshire.sch.uk
Disco Tickets, these will be handed out to the students to bring home. Each ticket will get the ticket holder admission, a bag of crisps and a drink.
£3 One child
£5 Two siblings
£7 Three siblings +
Ticket deadline is Monday 13th February 9am, no tickets will be collected after this time.
If any parents would like to volunteer, please email the F&F team ffsecretary@marton.cheshire.sch.uk
Thank you and see you at the disco!
Marton Friends and Family
Kind Regards,
Kellie L Mills
Secretary
Friends and Family PTA
Marton and District CE Aided Primary School