It's Harvest Time!
It's Harvest Time!
6 October 2021 (by S Copestick (Year1))
The whole School is buzzing with all of our classes busy preparing to celebrate harvest next Wednesday 13th October!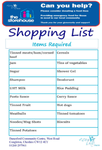 Harvest is a special time of year where we give thanks to those that help get food to our tables. It's also a time when we share what we have with others if we can.
This year we are once again supporting The Store House Food bank and are asking for your kind donations to make this harvest extra special. Whilst beautiful harvest boxes are welcome to go on our harvest display, any donation is gratefully received - a tin of beans or a small carrier bag of items is equally received with thanks. You can find a list of items that The Store House are in need of attached.
Children can begin bringing in Harvest donations from next Monday 11th October. We hope you can help.
Unfortunately we are unable to have parents in to celebrate with us again this year but are looking forward to sharing snippets of our celebration with you over seesaw.
Happy Harvest!
Miss Copestick