F&F KS2 Zoom Craft club
F&F KS2 Zoom Craft club
16 February 2021 (by Year 3 (Year3))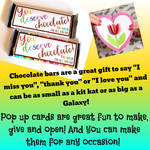 Hello everyone, for our first ZTCC we are having a lockdown themed arts and crafts session to let those we haven't seen in a while know we're thinking of them! Join us in making our quick craft of a chocolate bar wrapper followed by our main craft of a pop up card or just pop by, say hi and watch the action to make on a later date.
What you need:
Chocolate bar wrapper quick craft=
* chocolate bar of your choice (no nibbling!)
* a piece of plain white paper that fits all the way around the chocolate bar
* some felt tips or marker pens
* a pencil
* pritt stick
* scissors
* ruler
* any decorative items like glitter, feathers, sequins etc...
Pop up card
* pencil, scissors, pritt stick
* 1x coloured card A4 size (your choice of colour, this will be the main card)
* some scrap paper like magazine pages, envelopes, snack wrappers, or just regular paper, they only need to be small, these will make the pop up part.
* some paper in any colour or wrapping paper to cover the inside of the card and hide the opo up bit
* some thick card like a cereal box panel around a5 size is fine
Please join us on time as we will start promptly to ensure we have enough time to finish our crafts and pause for any questions. We request everyone be on mute until the end and use the chat option to ask questions. You are welcome to have your video on or off but if you need help we will need to see where your up to. At the end we will take a moment to show everyone what each other has made.