Cross country begins!
Cross country begins!
9 October 2018 (by Year5)
The new season begins with a bang!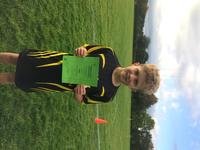 The cross country season has started and we are already seeing some amazing competition.
A huge congratulations to Thomas (Y4) who came third at Derby Fields, Macclesfield last week.
The Year 3/4 boys and girls team all competed right to the very end of the race and really pushed for every place.
This afternoon was the Year 5/6 turn and it started with the boys. Hayden (Y6) was very convincing and showed his dominance from start to finish. Some fine running by the rest of the team saw the boys finish with a combined score of just 25 points.
The girls started next and it was a two horse race from start to finish and both girls were in Marton colours. Ellie (Y5) and Mia (Y6) battled it out right to the very end and Mia just managed to hold out as the victor. Again some really strong team running saw the girls finish just ahead of the boys with 22 points.
Well done to all the children who have run over the last couple of weeks you really do make us all so proud and thank you for the continued support from the parents.
Next Wednesday is the Year 3/4/5/6 races at Macclesfield Leisure centre.